Clara Barton School No. 2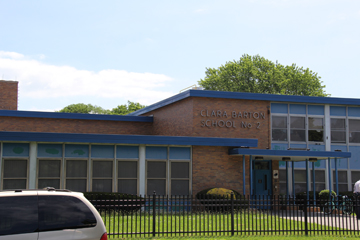 What Every Family Should Know
Clara Barton School #2 staff teaches Bulldog Pride to all students and provides them with relevant and rigorous Tier 1 instruction. We have implemented a new multi-tiered system this year to support students in all areas such as academics, social emotional learning, behavior strategies, enrichment, restorative practices and diversity training. Staff, students, and parents at Clara Barton School #2 School work collaboratively to create a safe and productive community that fosters mutual respect and genuine caring for each other. Our goal is to support, engage and develop our students into Restorative Bulldog Champions as they further their education and positively influence their communities.
Program Features
Uniforms Required Yes

Foreign Languages No

English Language Learners Yes

Honors/Enrichment Classes No

Early Literacy Program Yes, reading specialist onsite to provide support in grades K-6

Chorus Yes

Band/Orchestra Yes

Instrumental Music Lessons Yes

Sports Yes, Basketball

Step Teams Yes

Extended/Expanded Day No

Saturday School No

On-Site After-School Care Yes, Quad A After-School Program

Summer Programs No

Business/College/Faith Partnerships Southwest Kiwanis Club of Rochester, Junior Achievement, Comedy Club, Nazareth, MCC, Geneseo, University of Rochester, Omega Psi Phi Fraternity, Maplewood and Phillis Wheatley Libraries, Urban League, Center for Youth, Harvest Bible Chapel, Mountain Rise Church, Family Mission, Liberty Temple, Abundant Life Faith Center, Calvary Assembly, Heartland Payroll, Staples
Unique Features
Strong academic program that focuses on providing students with an education that prepares them to be successful in the 21st century. School No. 2 is committed to the implementation of the Common Core Learning Standards.

Clara Barton School No. 2 is a Restorative Practices School which means kindness is practiced daily. The school strives to be proactive and not reactive, focused on the social emotional well-being of students, incorporating strategies from TCIS and Restorative Practices into daily instruction in order to build stronger relationships with students.

School No. 2 shows pride in our community, which includes a strong parent group that meets regularly and community partnerships that provide students and families with support beyond the school day.

Our building and grounds have been newly renovated adding a fully functional performance stage, updated basketball courts and playground, a brand new maker's space room for creative projects, a new aesthetically designed cafeteria with brand new food service lines, an updated library with new computers and circulation desk, furniture in every classroom, two parking lots and a new front bus loop.