School of the Arts
is a
Rochester City School District secondary
school.
Nestled in the Neighborhood of the Arts, it is
located in the
heart of Rochester's Cultural District.
If
you're interested in the arts,
talented,
desire high academic
achievement,
and
you
want to develop your skills
...
SOTA is the place for you!
Voted Rochester's Favorite City School
Poll Conducted by Rochester
Education Foundation
45 Prince Street, Rochester, NY 14607
Phone: (585) 242-7682
Fax: (585) 256-6580
Our Mission is Student Success...
Academic, Artistic and Humanistic!
---
CLICK HERE TO PURCHASE TICKETS TO RAPA AT SOTA 2O16 FRINGE SHOWS AND MORE...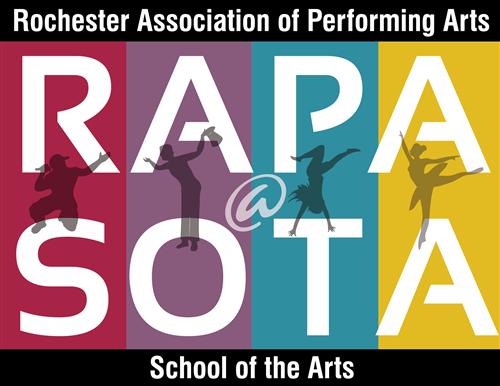 ---
Thank You, Rochester for Making SOTA's
2015-2016 Performance Season a Smashing Success!
SCHOOL OF THE ARTS
INCLUDED IN OUR 2016-2017 PERFORMANCE SEASON...
Flights, Fights and Frights: Shakespeare's Best
Willie Wonka: The Musical
Geek!
Dance Concert 2017
In The Heights
The Bottom of the Lake
---
TICKETS
GO ON SALE FOR THE 2016-2017 SEASON

PERFORMANCE SEASON TICKET PRICING INFORMATION
$10 - Adults
$8 - Senior Citizens, Students: 5 Years-Old and Up
$5 - Toddlers:
2-4 Years-Old
Infant on Lap Free: 1-24 Months
$5 - SOTA Students: ID Required
For more information about RCSD policies and procedures, please visit
www.rcsdk12.org
.