AN IMPORTANT MESSAGE FROM PRINCIPAL BRENDA PACHECO…
Today, School of the Art and the Rochester City School District observed Black Lives Matter in Schools: A Day of Understanding and Affirmation. This initiative is not part of the national Black Lives Matter Movement, but rather an opportunity to begin an important dialogue, take positive action steps to foster understanding, and strengthen our school communities.
Earlier today, there was incorrect information posted on various social media sites alleging that SOTA would not participate in Black Lives Matter at School today. To the contrary, special curriculum was written to help students understand and support each other. Meaningful and open discussions occurred in many classrooms today. School of the Arts enthusiastically set aside this entire day to educate and affirm black lives.
At 2:00 PM today, members of the student body, faculty, and staff gathered in the SOTA lobby. They peacefully and respectfully assembled to express their solidarity for black lives. The SOTA administration, faculty and staff support our students 100%.
It is heartbreakingly sad that rumors of discipline, retribution and tyranny began in the first place. No one at SOTA would ever prevent our children from constructively and safely finding their voice and speaking their truth during this day of understanding, affirmation and education. School of the Arts stand firmly behind its mission of student success… academic, artistic and humanistic. May we always remember that We are School of the Arts!
Sincerely,
Brenda Pacheco
Principal
is a
Rochester City School District secondary
school.
Nestled in the Neighborhood of the Arts, it is
located in the
heart of Rochester's Cultural District.
If
you're interested in the arts,
talented,
desire high academic
achievement, and
you
want to develop your skills
...
SOTA is the place for you!
Voted Rochester's Favorite City School
Poll Conducted by Rochester
Education Foundation
Our Mission is Student Success...
Academic, Artistic and Humanistic!
---
Need Information About School of the Arts Auditions?
Call the SOTA Audition Hotline...
---
Need Information About ParentCONNECT?
Call the Office of Parent Engagement 585-262-8318
---
SCHOOL OF THE ARTS
2016-2017 PERFORMANCE SEASON...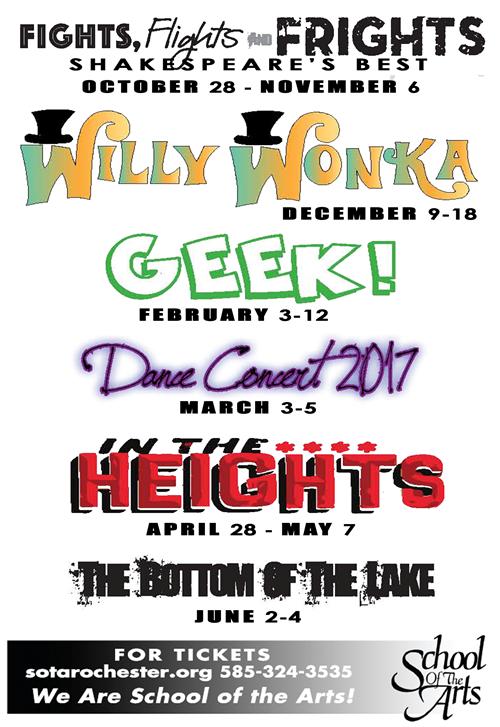 ---
TICKETS
ON SALE FOR THE 2016-2017 SEASON

PERFORMANCE SEASON TICKET PRICING INFORMATION
$10 - Adults
$8 - Senior Citizens, Students: 5 Years-Old and Up
$5 - Toddlers:
2-4 Years-Old
Infant on Lap Free: 1-24 Months
$5 - SOTA Students: ID Required
---
J
oin the SOTA Visual Arts Department for the
2016-2017 Guest Artist Exhibition...
For more information about RCSD policies and procedures, please visit
www.rcsdk12.org
.
45 Prince Street Rochester, NY 14607
Phone: 585-242-7682
FAX: 585-256-6580