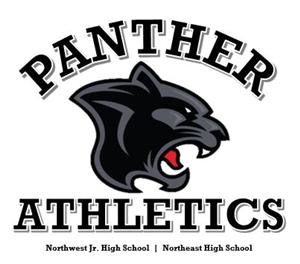 Partici
pation in extracurricular activities contributes to the development of health, physical skills, emotional security, responsibility, and social skills.
· Participation in these activities is a privilege that carries with it responsibilities to the club or team, the student body, the school, and the community.
· Students are required to maintain a 2.0 grade point average to participate in athletic contests.
The current sport schedule can be found
HERE
The following is a list of extracurricular activities that we offer at Northeast and Northwest High School (s):
Fall Season
Winter Season
Spring Season

Northwest

Junior High

Football

Boy's Soccer

Cheerleading

Boys' Basketbal

Girls' Basketball l

Girls' Volleyball

Girls' Indoor Track

Boys' Indoor Track

Wrestling

Boys' Track

Baseball

Lacrosse

Girls' Softball

Northeast

High School

Football

Boy's Soccer

Golf

Girls' Tennis

Boys' Basketball

Girls' Basketball

Girls' Volleyball

Cheerleading

Boys' & Girls' Bowling

Girls' Indoor Track

Boys' Indoor Track

Boys' Track

Baseball

Boys' Tennis

Girls' Softball