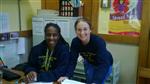 Our School 39 nurses are Mary Connolly and Roxanne Wright.
Our nursing staff is available from 8:45am-3:45pm during the school year. They have requested that you please keep your contact information current in case of emergency. Please remember to send in all medical excuses and share any changes in your child's health with the health office. Thank you and stay healthy!
The following documents are provided for your information.
If you have questions or concerns, you may contact the nurse's office through our main phone line at: 467-8816